BUIL & GINÉ, located in the middle of the vineyards and embraced by the Serralada del Montsant, hosts a multi-sensory experience and Yoga Session on Saturday, May 28th. The following session is scheduled on July 2nd. Our summer agenda kicks off!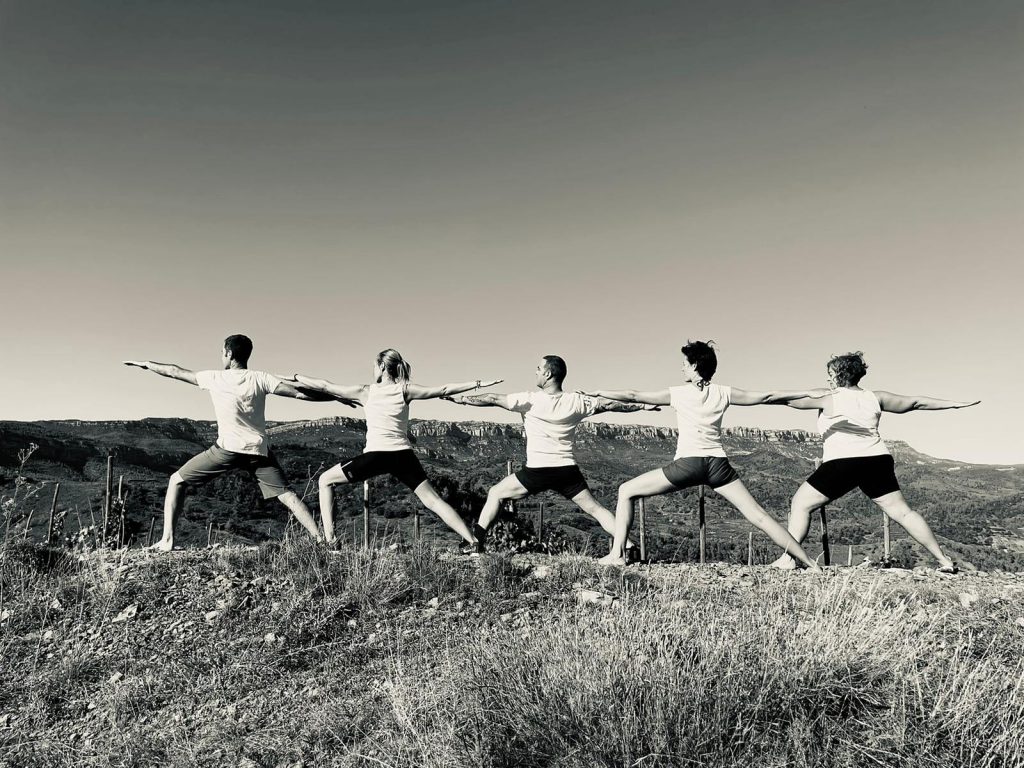 With the beginning of the warm season, we are planning new activities especially designed to discover the biodiversity of our environment and enjoy it in a respectful way, always in line with our philosophy. So, next May 28th we will be holding our first morning IYENGAR® Yoga Session with Julio César Guillén. We will begin with a panoramic promenade around the vineyards to stimulate our senses and learn about the biodiversity of our estate, in the geographical and historical background of the Priorat. You will discover the smells, the touch, the sounds, the colours and the shapes that surround us in a relaxed walk that will prepare us for the Yoga Session that will follow in our cellar.
Julio César Guillén will lead the IYENGAR® Yoga Session that will take place in the barrel room of our cellar, where our wine rests in a quite environment, in deep silence and surrounded by the microscopic life full of expanding energy.
IYENGAR® Yoga emphasizes body alignment, depth in the different layers of de human being and meditation in action. Julio César Guillén is a yoga teacher with more than ten years of experience, certified by the Ramamani Iyengar Memorial Yoga Institute in Pune (India), and member of the Spanish IYENGAR® Yoga Association (AEYI). He leads the yoga studio Ioga Priorat.
At the end of the Yoga Session we will enjoy some healthy snacks and drinks at the Wine Tourism Center to relax and share the experience.
After that, you can stay for lunch at our Restaurant Amics (previous reservation is required), or enjoy a Wine Tasting Session with us. We also encourage you to have a complete experience staying at our BUIL & GINÉ WINE HOTEL. Ask for our Relax & Reconnect Package: two nights of accommodation in a double room with breakfast included, morning Yoga Session, full menu at our Restaurant Amics, walk to the Ermita de la Consolació and Wine Tasting Session with 4 of our top Priorat wines.
BUIL & YOGA When?
Saturday, May 28th 10:00 AM – 1 PM
Saturday, July 2nd 10:00 AM – 1 PM

The Yoga Session is organized for a reduced group of people. There are very limited spots. Please make your reservation as soon as possible through enoturisme@builgine.com or 977 839 810/674 372 296.