We are planning new proposals for October and December following the warm reception of our Live Music and Wine Festival.
An unprecedented vertical tasting of JOAN GINÉ and a concert by 'Slinkies' will be the highlights of the upcoming proposal Saturday, October 28th, at our winery.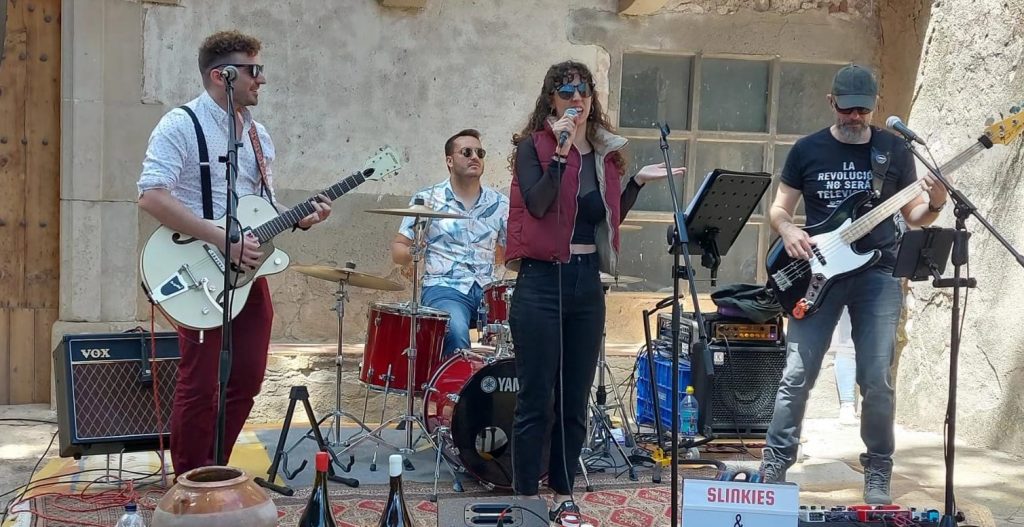 Next Saturday, October 28th, we look forward to a new proposal from KM. 11.5 FEST. The warm reception of the Music and Wine Cycle that we launched last June with a summer itinerary has motivated us to organize two new events that will close the year: one in October and one in early December, coinciding with our established Christmas Market (December 8th and 9th). We're maintaining the format of offering an exclusive tasting and live music, but we're changing the time to noon to better adapt to autumn. At the same time, we are proud to announce that KM. 11.5 will continue next year, this coming spring and summer.
October 28th: unprecedented vertical tasting of JOAN GINÉ & Slinkies.
For this coming October 28th, we have scheduled a vertical tasting of JOAN GINÉ Red at 12 o'clock followed by the music of the Slinkies starting at 1:30 p.m. As for the gastronomic proposal, this time there will be a rice dish ('paella') prepared in situ by the local company 'Mans d'Or', accompanied as always by our brand's wines and the best atmosphere and surroundings.
Slinkies is described as "music that is both new and old, elegant and a bit cheeky". This young group, consisting of Sara Folch on vocals, Adrià Sánchez on guitar, Javi Martín on bass, and Gerard Moreso on drums, offers a musical style that ranges from pop to rock, passing through indie and blues. Music that draws from the past to offer a modern style, an ideal fusion with our JOAN GINÉ: a traditionally blended Priorat wine of modern taste, which, under the name of the family ancestor, pays homage to the historic Priorat.
Remember!: starting at 12 p.m. at the BUIL & GINÉ wine tourism center.
KM. 11,5 FEST Schedule: October 28th
12 p.m.: Vertical tasting of JOAN GINÉ Red: 25 euros per person. Purchase here
1:30 p.m.: The Slinkies concert: free of charge
Starting at 1:30 p.m.: Gastronomy and wines service. 'Paella', rice "a la cassola": 14 euros per person.
As always, there will be wine served by the glass / bottles throughout the day. Consumption is not included with the purchase of the rice ticket nor the wine tasting.
WE RECOMMEND RESERVATION OR ADVANCE TICKET PURCHASE HERE
Reservations: 697 111 854
WHY KM. 11.5 FEST
The name of the festival refers to our location in Gratallops: kilometer 11.5 of the road from Gratallops to Vilella Baixa. But it also aims to promote the territory and give prominence to the origin of BUIL & GINÉ and its location, "an essential point of meeting and of contact with the landscape".
This is our determined commitment to promote local culture and the brand's connection with the territory. In this sense, we also accommodate other nearby producers regarding gastronomic proposals and, at the same time, serve as a platform for promoting local musicians. Thus, every month a different food proposal is offered to accompany the music, which also varies in style to accommodate different groups and musical tastes.
If you need any further assistance, feel free to ask!