FAMILY COLLECTION
Samsó, local name for Carignan. Here in its most pure Priorat expression.
SAMSÓ 74 ANYS
2018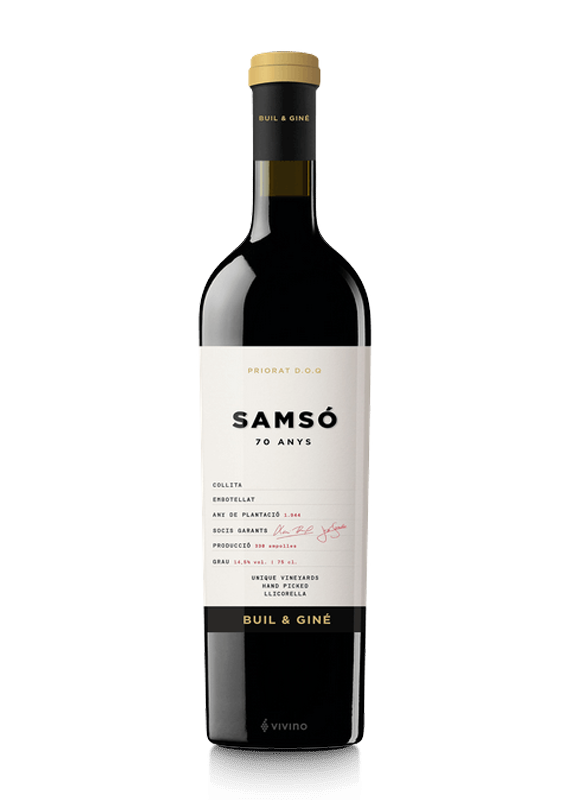 Generic characteristics
A single-vineyard wine of Carignan, locally known as Samsó. Selected grapes from the old vines that grow in a slope in Bellmunt del Priorat municipality. "74 Anys" (years, in catalan) refers to the age of the vines of the 2018 vintage. A pure expression of this Priorat's local variety. An intense and mouthful wine with a long ageing potential.
Type of soil
Llicorella (slate).
Pairings
Nothing works better with our classic 'Fricandó'.
ProduCTION 2018 VINTAGE
1025 bottles of 750 ml.
36 Magnums.
4 bottles of 3 L.
3 bottles of 5 L.
14,7% Vol. with 5,5 ATS and 3,4 PH.
Organic farming.
Long ageing potential: up to twenty-five years.
SAMSÓ 108 ANYS
2018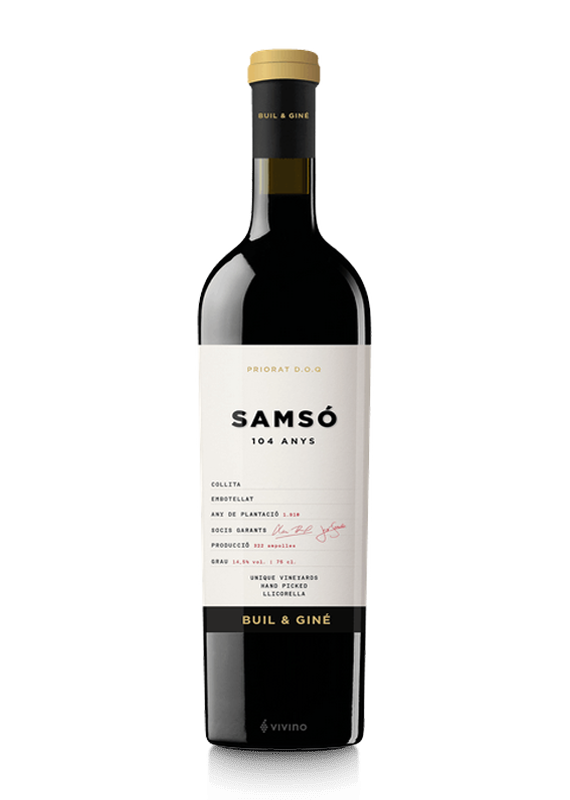 Generic characteristics
Like Xavi, dominated by happiness, elegance and delicacy. This is probably the best way to define this wine coming from El Colomer estate. Only 0,37 hectares. A single-vineyard wine of Carignan from century old vines.
Clean and deep colour. An intense wine with red and black fruit flavours in great balance with its smooth, spicy and delicate toasted notes from a short ageing in French oak casks.
Type of soil
Llicorella (Slate)
PAIRINGS
Xavi and Anton love to drink it with our grilled lamb chops and vegetables.
ProduCTION 2018 vintage
863 bottles of 750 ml.
36 Magnums.
4 bottles of 3 L.
3 bottles of 5 L.
14,8% Vol. with 5,6 ATS and 3,4 ph.
Organic farming not certified.
It has all conditions to remain alive and to improve at least for the next 25 years.
decanter 2023: 97 ponts – platinum
"A rich, ripe, opulent style with black fruit, floral, liquorice and pepper aromas. Juicy and dense in the mouth with an impressive texture and lovely fruit which carries the alcohol well. Complex, layered and elegant" – Decanter World Wine Awards, 2023.
---
In 1887, when Filoxera reached Priorat and killed our vines, we had very diverse plantations in the region with a lot of different varieties represented. When replantation started, our great grandparents focused their job on two varieties: Red Garnatxa and Samsó (local names for Grenache and Carignan). Basically because they are adapted to the terroir and they perfectly complement each other. Garnatxa is delicate, expressive, feminine. Samsó is intense and with a great acidity, giving powerful and structures wines.
The harmonious blend of Grenache and Carignan in Priorat gives us wines with a sense of place.
In 2012, in one of the tastings we usually have in our research program, Xavi Buil fell in love with some of the Samsó monovarietals we were working on. Learning about the best conditions for Samsó he realized that his best friend Anton owned two very old vineyards that perfectly represented the variety within the terroir. A 100 year old plantations for two 50 year old men!
We started working on those fantastic vineyards and in 2014 we decided to make a single-vineyard wine 100% Samsó from them. But it is not only about plots and grapes. It is also about the people that grow them, the people with passion and love for them. They can even improve what nature gives us. That is the reason why, due to Anton's experience and Xavi's vision, we decided to harvest the vineyard's separately and elaborate two exclusive wines.
Both gave us the outstanding and unique Samsó that we decided to keep separately after almost 3 years in new French oak in 300 lt. barrels. It seems as if Samsó 104 anys took Xavi's personality and Samsó 70 Anton's one.